Robin Damron II
Christian Pop
New Song
​AVAILABLE NOW!
---
BIO
Ohio - Christian - Singer - Songwriter - Producer
Robin Damron II grew up in central Ohio with a passion for music from a young age. Inspired by varied music artists, such as Plus One, Skillet, and Ohio's own Relient K, he would dream of one day producing and performing music that people would want to listen to.
"My hope is that people will hear the music, enjoy the sound enough to stick around, and hear the message enough to change their hearts."
During his school years, Robin was in a boy band that went by the name Zeroed In,other members included Anthony Filio and Michael Jasper. The band never officially released any music to the public.
Robin debuted publicly in 2015 with Supernova, a softer electronic song with a pumping chorus.
​
In 2016 Robin released his second single title Hope, which found its place on Internet radio and a couple FM radio stations around the US.
In 2017, Robin released his first EP, which included the single Hope and a remix of the song produced by GeoVoc (aka Daniel Thompson). Robin also performed with Thompson on a song for his EP release the same year, providing vocals that were used in GeoVocs song titled Faithful. Later in 2017, Robin released the single titled "Guard Your Heart", making 2017 his busiest year yet.
---
FOLLOW / SUBSCRIBE
Follow me on social and join the mailing list so the next time I drop a new track, you'll be among the first to know!
---
MUSIC
---
TWEETS
Powered by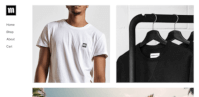 Create your own unique website with customizable templates.